Find Someone's Will
A person's passing can end up being a complicated thing. A will can make things easier for survivors by describing how the deceased wishes their assets to be distributed at the time of death. To settle an estate in Ohio, filing a will in probate court is one of the most important steps to follow. This is usually done by a family member, attorney, or other person designated by the deceased.
If you feel you have a stake in someone's will, obtaining a copy of the last will and testament will be necessary. Unless you were part of the filing process, locating a copy of the will can occasionally be challenging.
Here is what you need to know about locating and obtaining a will in Ohio.
Are Wills Public Records In Ohio?
Some people prefer their last will and testament remain private. Usually, only they, their attorney, and those specifically authorized can view its contents before death.
However, once the person who wrote the will is deceased, it will become public record once it is recorded or filed for probate in an Ohio probate court.
How to Locate and Request Probate Court Records
Because a will filed for probate is considered a public court record, you should be able to obtain a copy of it. Modern technology is useful in finding information about a deceased person's estate online—often at no cost.
As for the will itself, you may not be able to view the actual document for free. Many courts now charge a fee for the ability to view documents. That said, you should still be able to review a list of the documents filed with the court, the executor's name, their attorney, and the name of the presiding judge. You may even have access to the list of creditors and beneficiaries for the estate you're looking into.
You can request a copy of the will and related documents from the probate clerk's office. You could also request copies from the executor or their attorney.
Locating Records and Obtaining Copies
How do you find the probate court where an estate is going through probate? The estate is often probated in the same county the deceased person lived in at the time of their death, although sometimes, it could be a county where the deceased owned real estate.
Once you've found the county where the estate is in probate, you can search for that county's probate court dockets online. If you can't find any reference to probate court, try searching for terms such as "circuit court," "surrogate's court," or "orphan's court."
Every county in the state deals with probate, so the chances are good that you will eventually be able to locate the appropriate court's online information.
Once you have found the probate court's docket online, you can obtain a copy of a will or related document directly from the probate court by appearing in person and requesting copies of the documents. You can also make a written request submitted by fax or mail should you not be able to appear in person.
You will likely have to pay a copying fee based on the number of pages involved and provide a self-addressed stamped envelope for mailing purposes should you not make your request in person.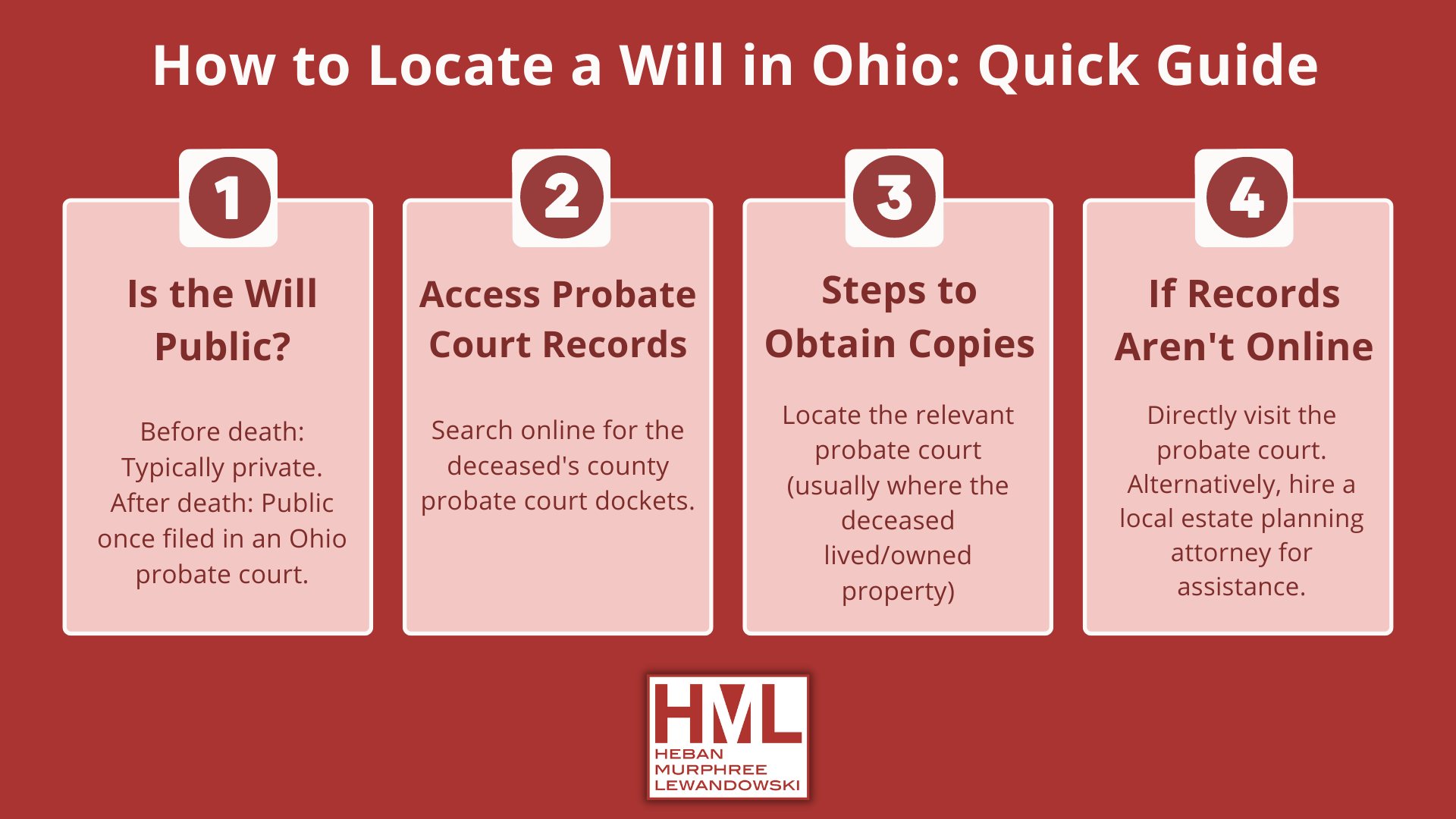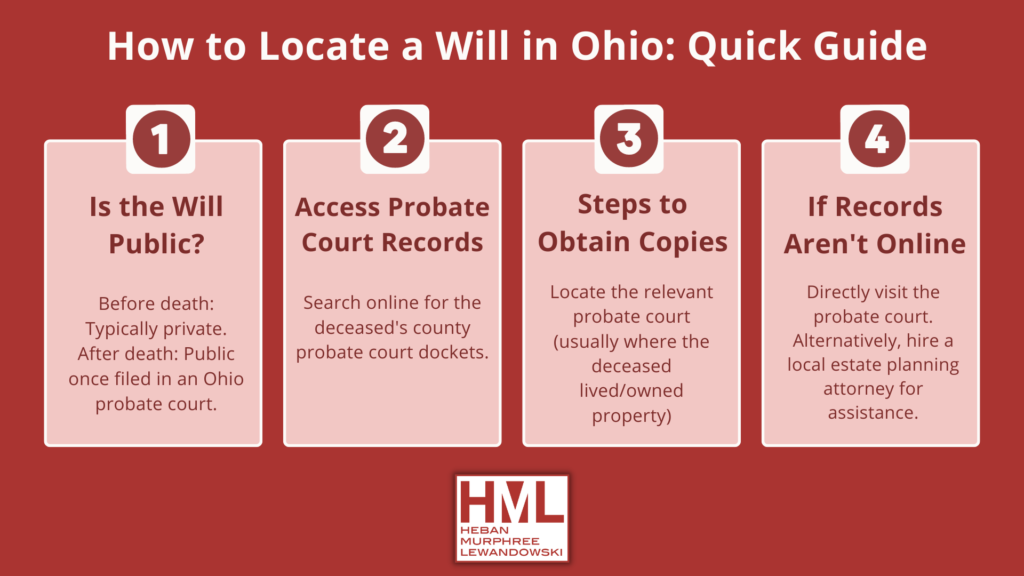 If You Can't Find Probate Records Online
You still have other options if you have difficulty locating records or probate court dockets online. The most direct option would be going to the probate court and asking for help finding the necessary documents. Most probate clerks will be helpful and can locate the estate information using the deceased's legal name. You can view the probate files and request copies if the estate has been opened.
If appearing at the probate court is not an option, you can also contact an estate planning attorney's office local to the applicable probate court and have them assist you in obtaining copies of probate documents. They will charge for their services, but if you live some distance away from the probate court, a local estate planning attorney's office can save you the cost of travel to the court yourself.
If All Else Fails…
If none of these suggestions work out, a probate estate for the deceased may not have yet been opened. Should you believe this is the case, consult with an estate planning attorney in the county where the deceased lived to learn about your options.


Consult With the Experts
Dealing with the passing of a loved one can be difficult enough. An estate planning or probate attorney can make things a lot easier. While probate law can vary from place to place, it's good to know that Ohio residents have expert guidance available thanks to the experienced attorneys at Heban, Murphree & Lewandowski, LLC. Our team is standing by, ready to answer your questions and guide you through the probate process from beginning to end.