Business Dispute Solutions
Business disputes are inevitable. While they may be taxing, they needn't be insurmountable. Here in Ohio, entrepreneurs and businesses have various methods to resolve conflicts. The challenge lies in determining which pathway to take.
The world of legal dispute resolution may seem muddled with jargon, but understanding these terms is fundamental. Mediation emphasizes collaborative discussions facilitated by a neutral mediator to reach a voluntary solution. Arbitration, on the other hand, is akin to a private tribunal where arbitrators (often experts in the relevant field) make decisions that tend to be binding. Litigation is the most traditional path, wherein a court, guided by a judge or a jury, makes a legally binding decision after a comprehensive review.
Our legal team explores the details of mediation, arbitration, and litigation to guide you through this intricate terrain.
Mediation: The Collaborative Approach
Mediation, with its essence rooted in collaboration, offers a platform where disputing parties come together to find common ground. Its increasing popularity, as witnessed in states like Ohio, lies in its ability to encourage transparent dialogue. This method is not about win or lose; it's about understanding and compromise.
Advantages:
Cost-efficiency: Mediation often comes without the financial heft seen in traditional litigation.
Speed: Days or weeks instead of months or years – a more rapid route to resolution.
Relationship Preservation: Businesses can emerge with partnerships intact, a rarity in adversarial proceedings.
Confidentiality: Private dialogues mean details remain out of the public purview.
Drawbacks:
Non-binding Nature: Parties aren't obligated to agree, potentially leading them back to square one.


Arbitration: The Private Tribunal
Arbitration, a midpoint between mediation and litigation, offers a structured yet private resolution method. With its formality, decisions made here often carry the weight of law. Arbitrators, mirroring judges, employ their expertise to render judgments, which, more often than not, are final.
Advantages:
Expediency: Faster than traditional courts, this method can be a time-saver.
Confidentiality: Keeping business disputes under wraps.
Finality: Conclusive decisions mean the end of the dispute chapter.
Drawbacks:
Costs: While sometimes more affordable than litigation, it can still be pricey.
Limited Appeals: Decisions, once made, are often the last word.
Potential Biases: The selection of arbitrators can sometimes raise impartiality concerns.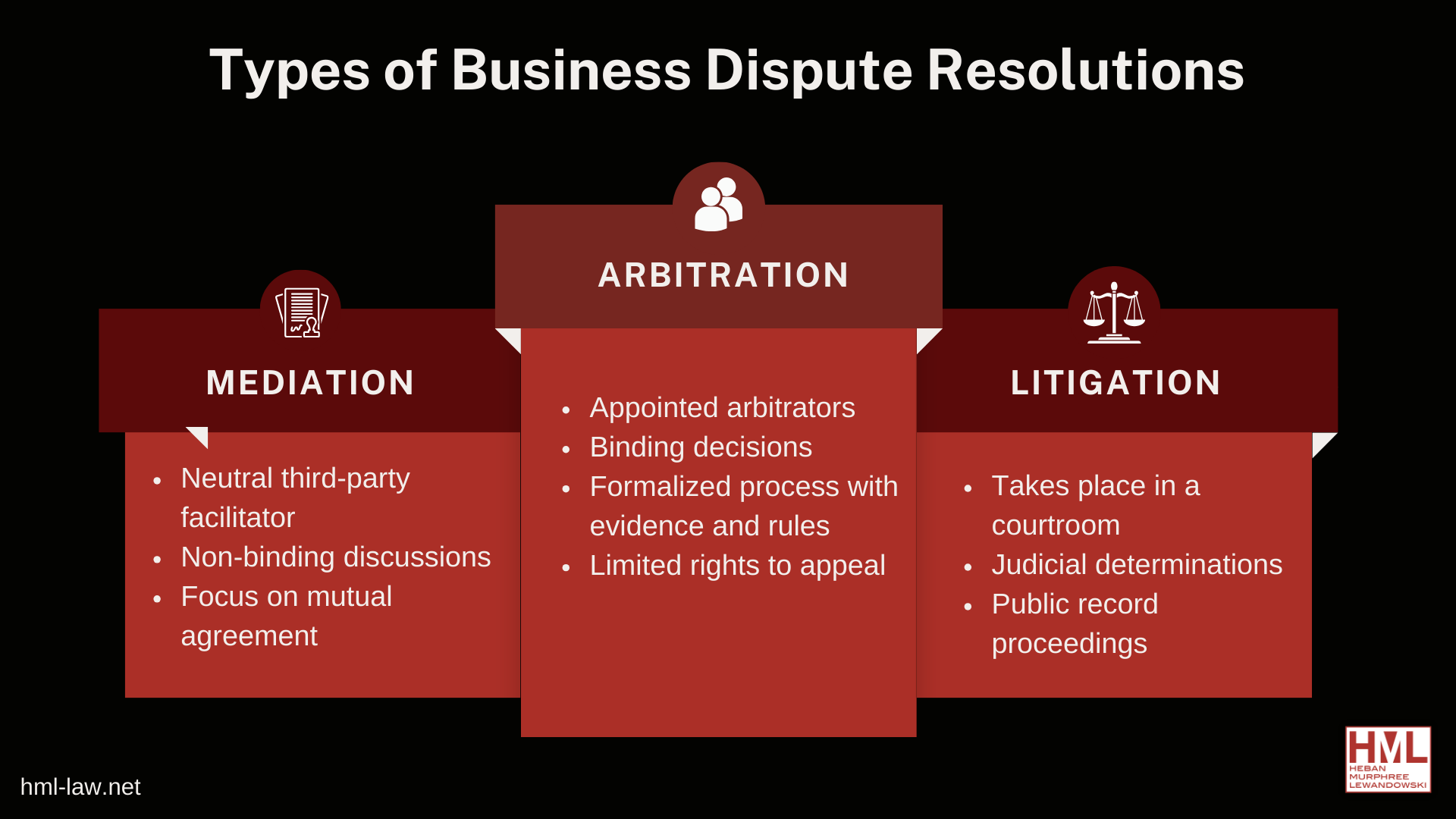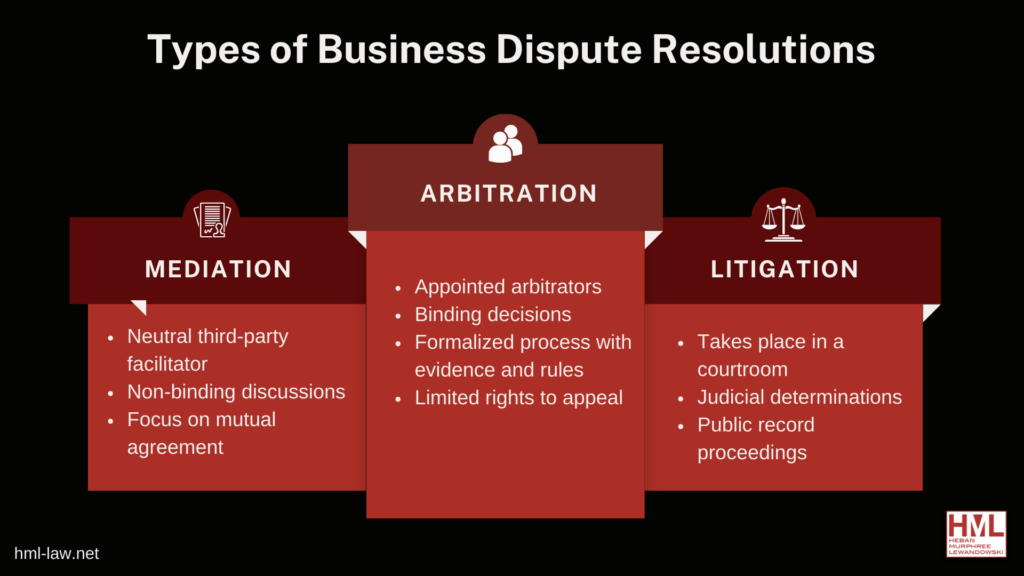 Litigation: The Traditional Courtroom Battle
The grand halls of justice, with their gavels and robed figures, represent the age-old litigation process. This method stands on procedure, transparency, and the rule of law. While it's the path most traveled, it's also the most rigorous.
Advantages:
Procedure and Fairness: Clear rules mean an equitable process for all.
Appeals: Unsatisfactory judgments have a recourse mechanism.
Enforceable Decisions: Legal compliance is mandatory, ensuring resolutions are respected.
Drawbacks:
Time Intensity: It can be a long journey to the judgment day.
Financial Implications: With legal fees and more, costs can mount.
Stress: The adversarial climate can be mentally and emotionally taxing.


Pre-Mediation Contracts: An Added Layer of Clarity
Mediation, with its informal backdrop, can be further streamlined through pre-mediation contracts. These contracts act as torchbearers, shining light on the roadmap ahead ensuring all parties are in sync before entering the mediation room.
Confidentiality Agreements: Discussions remain a secret, ensuring business sanctity.
Mediator Selection Criteria: Laying the foundations for impartial mediation.
Time Frame: Setting expectations around the duration of discussions.
Engagement Commitment: Ensuring all parties are genuinely involved and dedicated to finding a resolution.
Other Factors to Consider
With the knowledge of each method, the pivotal question remains: which to choose? The unique facets of your dispute will sculpt your decision:
Nature and Complexity: Certain disputes naturally align with a specific method.
Desired Outcomes: Binding or non-binding? The answer could dictate your path.
Time and Financial Resources: Your constraints will guide your choice.
Confidentiality Importance: If discretion is key, some methods outshine others.


Need Legal Help in Ohio?
The corridors of conflict resolution are diverse and winding. Whether it's the collaborative spirit of mediation, the structured confidentiality of arbitration, or the traditional rigors of litigation, each path has its challenges.
As businesses and entrepreneurs in Ohio grapple with these choices, partnering with seasoned legal experts, like those at Heban, Murphree & Lewandowski, LLC, can make the journey less arduous and more insightful. (419) 662-3100