Guide to Final Distribution of Estate Assets
Losing a loved one is always challenging, and the complex process of distributing their assets is difficult. Here at Heban, Murphree & Lewandowski, LLC, we're dedicated to helping Ohio residents navigate these legal waters. We've noticed that understanding the probate process—a legal journey where a will is validated, and an estate's assets are distributed—can alleviate a lot of uncertainty.
The Three Paths of Asset Distribution After Death
When someone passes away, their worldly possessions find new homes through three main channels: outside the probate process, within the probate process, or before the person's death. The nature of the assets, debts owed, and the clarity of the will can all affect the speed and efficiency of this process.
Stumbling Blocks: What Causes Delays in Distribution?
Unfortunately, asset distribution isn't always a swift process. Several hurdles might slow down the distribution:
One-of-a-Kind Assets: Uncommon or unique assets often require extra time for proper evaluation.
Long-Distance Assets: If assets are scattered across states or countries, you will likely face more paperwork and bureaucracy.
Outstanding Debts: Creditors have a grace period to claim what the estate owes them, which can lengthen the distribution process.
Tax Complications: The estate may owe income taxes and will need to gain tax clearance before distribution can proceed.
Beneficiary Bonanza: More beneficiaries equate to more complexity in the distribution process.
Family Feuds: Disputes over the will can put everything on hold while investigating potential fraud or abuse.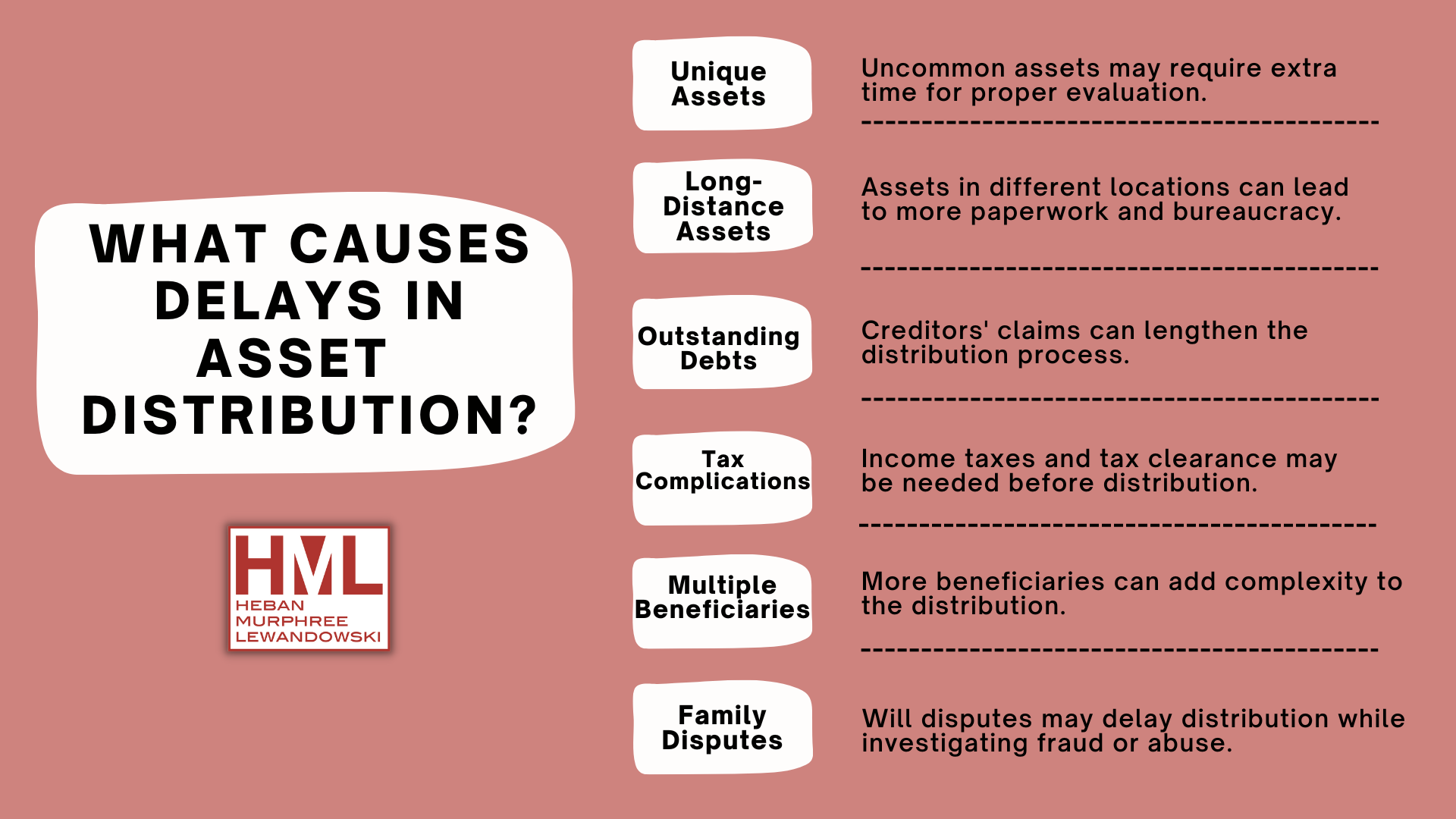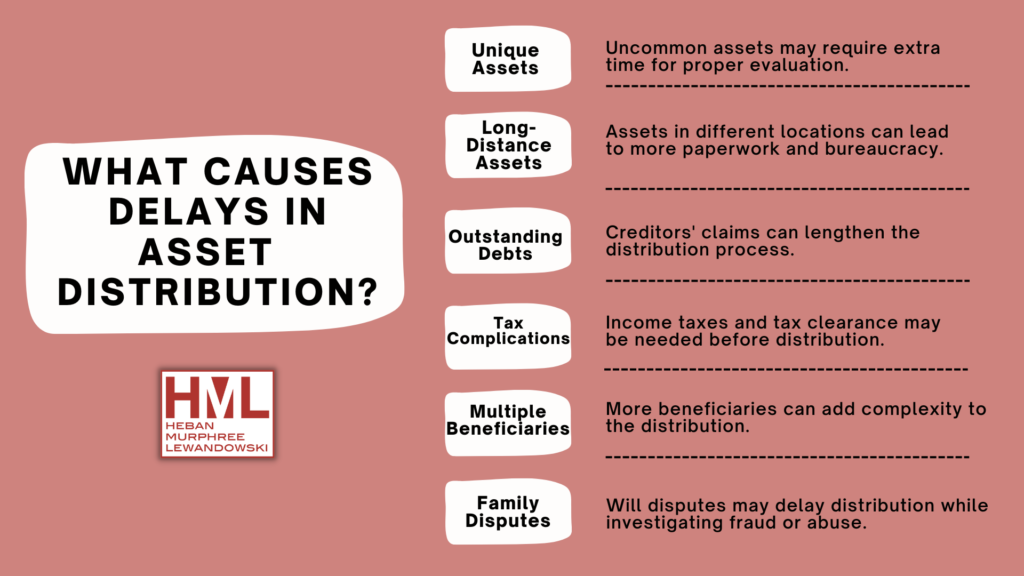 The Pivotal Role of the Personal Representative in Asset Distribution
A personal representative, or executor, is the point person for managing the estate's assets. They handle the valuation of assets, pay the bills, tackle tax matters, and ensure a fair distribution. With such significant responsibilities, legal counsel is often invaluable to navigate the process and avoid pitfalls.
Tackling Unique Assets
Unique assets—antique collectibles or foreign properties—can complicate probate. These might need a specialist's eye for valuation and can even trigger additional probate procedures in other locations, leading to increased red tape and potential delays.
Sorting Out Debts and Taxes
Before any assets get passed on to heirs or beneficiaries, it's important to clear out any lingering debts and sort out taxes. Some beneficiaries might have to forgo their inheritance if debts are more than the estate's worth. And remember, you must complete all tax returns and gain tax clearances before the property can be distributed.
Resolving Family Disputes: Communication is Key
In the throes of grief, disagreements over an estate can bubble up and cause significant delays. Open and honest communication about estate plans ahead of time can help prevent these emotional battles and smooth the way for a more peaceful asset distribution.


The Complications of Multiple Beneficiaries
When there are several beneficiaries, the probate process naturally becomes more complex. The personal representative must keep in regular contact with each beneficiary, arrange asset transfers, and help resolve any disputes, which could extend the timeline of estate resolution.
Avoiding Probate Potholes: Preventing Delays in Estate Distribution
With all the potential speed bumps in estate distribution, you might wonder how to keep things moving. Here are a few tips to prevent delays:
Make sure your estate plan is clear and comprehensive.
Keep open lines of communication about your intentions to prevent disputes.
Organize your documents and make them easily accessible.
Keep abreast of current tax laws to sidestep any surprise costs.
Consider assigning certain assets to beneficiaries before death.
How Legal Counsel Streamlines Estate Distribution
The final distribution of estate assets is often challenging, but with the right guidance, it can be manageable. Our experienced team at Heban, Murphree & Lewandowski, LLC, is here to help Ohio residents navigate the process with as little stress as possible. With our professional support, the final distribution of estate assets can be a smoother, more manageable journey. 419.662.3100