Find an Ohio Lawyer
In Ohio's complex legal environment, selecting the right attorney is pivotal. At Heban, Murphree & Lewandowski, LLC, we understand this importance and aim to provide thorough guidance to facilitate your search for legal representation.
1. Understanding Your Legal Needs
The first step in finding an attorney is clearly understanding your legal situation. This involves a detailed evaluation of your case, where you assess the specifics and set clear expectations. It's vital to recognize whether your legal matter requires the expertise of a general legal practitioner or if it necessitates the specialized knowledge of an attorney who focuses on a specific area of law.
2. Geographical Considerations
The location of your attorney is a significant factor in your decision-making process. Choosing a lawyer based in Ohio is advantageous because they have specific knowledge of Ohio's legal environment and familiarity with local courts and laws. Additionally, having a lawyer nearby facilitates easier communication and scheduling of in-person meetings and consultations.
3. Utilizing Ohio State Bar Association Resources
The Ohio State Bar Association (OSBA) is a crucial resource to tap into. The OSBA stands out for its comprehensive tools and networks designed to assist in finding a suitable lawyer. Here's how you can utilize these resources effectively:
Expansive Networks and Resources: The OSBA offers a broad range of tools and networks, making it easier to begin your search for the right lawyer.
Referral Services Access: Use the OSBA's referral services to receive a curated list of attorneys who meet your specific legal needs.
Conducting Background Checks: It's essential to verify the credentials of potential lawyers. Utilize OSBA resources to conduct in-depth background checks, ensuring you confirm their professional standing and reputation.
4. Online Attorney Directories
Online attorney directories such as Avvo, FindLaw, and Martindale-Hubbell are excellent resources in today's digital age. These platforms offer a wide range of attorneys to choose from and the ability to conduct initial consultations virtually. This approach allows you to explore different options comfortably and efficiently, ensuring you find an attorney who aligns well with your legal needs.
5. Leveraging Personal and Professional Networks
Finally, tapping into your personal and professional networks can be a great way to find a lawyer. Personal recommendations from those you trust and professional opinions from those in related fields can provide unique insights and lead you to attorneys who have proven their effectiveness in similar situations. This personalized approach adds another layer of reliability to your search.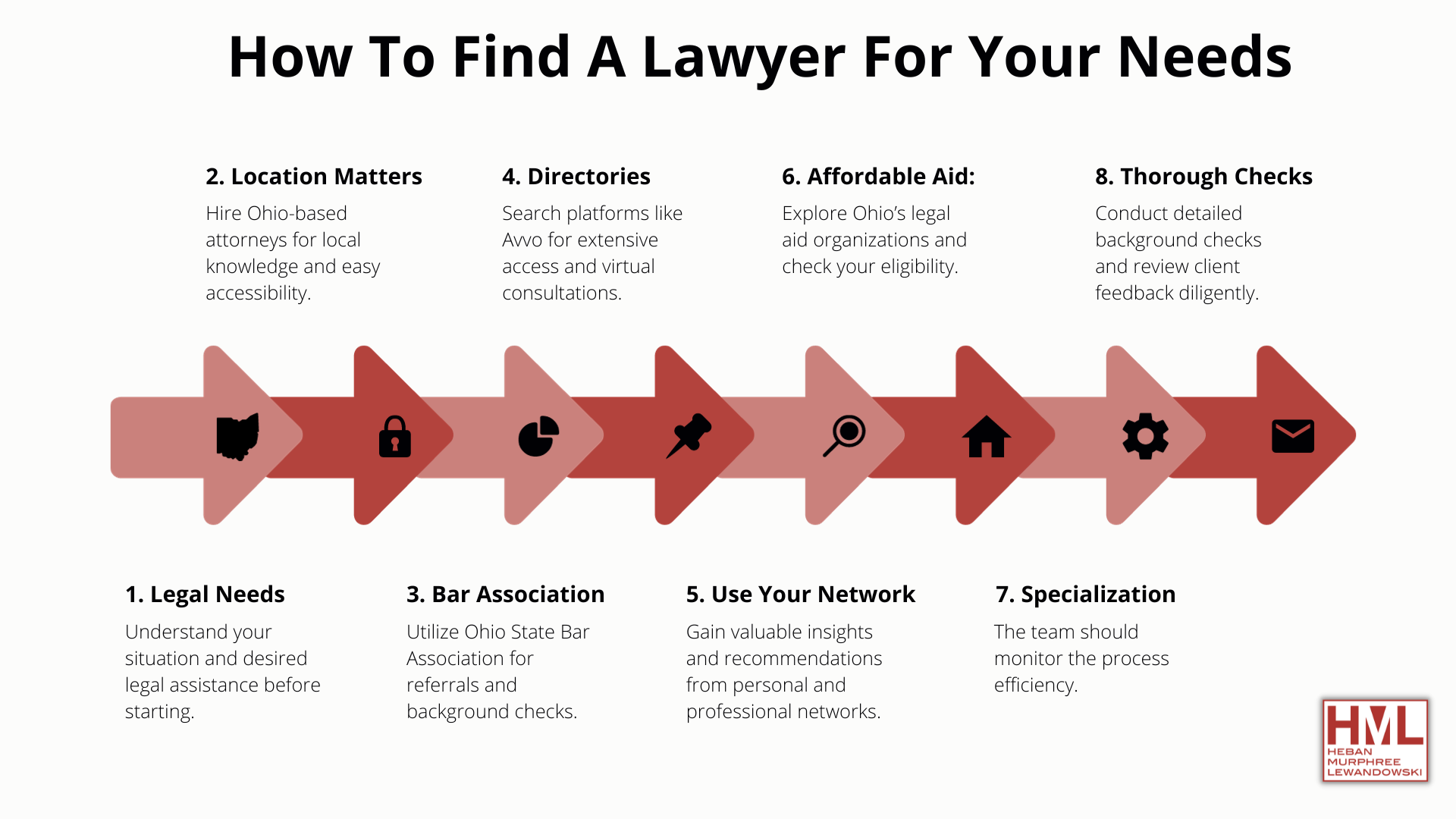 6. Legal Aid and Pro Bono Services in Ohio
In Ohio, legal aid organizations offer a cost-effective solution for legal assistance. These services are particularly beneficial for those who might not otherwise afford legal representation. To take advantage of these services, it's important first to check your eligibility and explore the services available to you.
7. The Importance of Specialization
When seeking legal representation, it's essential to consider the specialization of the attorney. An attorney with specific experience relevant to your legal issue can provide more effective and tailored legal guidance. Here are key points to consider in this regard:
Choose Specialized Expertise: Opt for an attorney whose experience aligns closely with your specific legal needs.
Quality of Representation: The depth of knowledge and experience in similar cases can greatly enhance the effectiveness of your legal representation.
Check for a Strong Track Record: It is important to confirm that the attorney has a successful history in dealing with cases in the relevant legal area.
10. Checking References and Reviews
Investigating a lawyer's background and client feedback is key to ensuring their reliability and professionalism. Conduct a thorough review of their past cases, including detailed background checks. It's also important to check for any serious disciplinary actions on their record, as this can impact their ability to represent you effectively.


Consider Initial Consultations:
When considering initial consultations with a lawyer in Ohio, it's vital to gauge if they fit you and your case. The first meeting is a chance to evaluate your comfort level with the lawyer and their understanding of your situation. Being prepared with relevant documents and a list of questions will help you maximize the benefit of this meeting.
Additionally, understanding the lawyer's fee structure and billing practices is crucial to avoid future confusion. Ensure that the lawyer's billing information is clear and assess the costs against the potential benefits to determine if the legal services are cost-effective for your needs.
Need Legal Help Now?
Efficient legal representation in Ohio is achievable with a meticulous and informed search. Your efforts in choosing the right legal ally will be a cornerstone for successfully resolving your legal concerns.
Reach out to Heban, Murphree & Lewandowski, LLC. Let our dedicated team navigate you through Ohio's legal intricacies. Entrust your legal matters to us, where your peace of mind and successful resolution are paramount. Call now! 419.662.3100